Good news: Hainan Hualon Pharmaceutical Co.,Ltd. recently received the "Notification of Approval of Drug Supplement Application" issued and approved by the National Medical Products Administration, and the company's "Pantoprazole Sodium for Injection (40mg)" passed the national drug consistency evaluation. This is another Hualon's product passed the national drug consistency evaluation after "Omeprazole Sodium for Injection".
Packaging specification of the product: 40mg/10 vials/box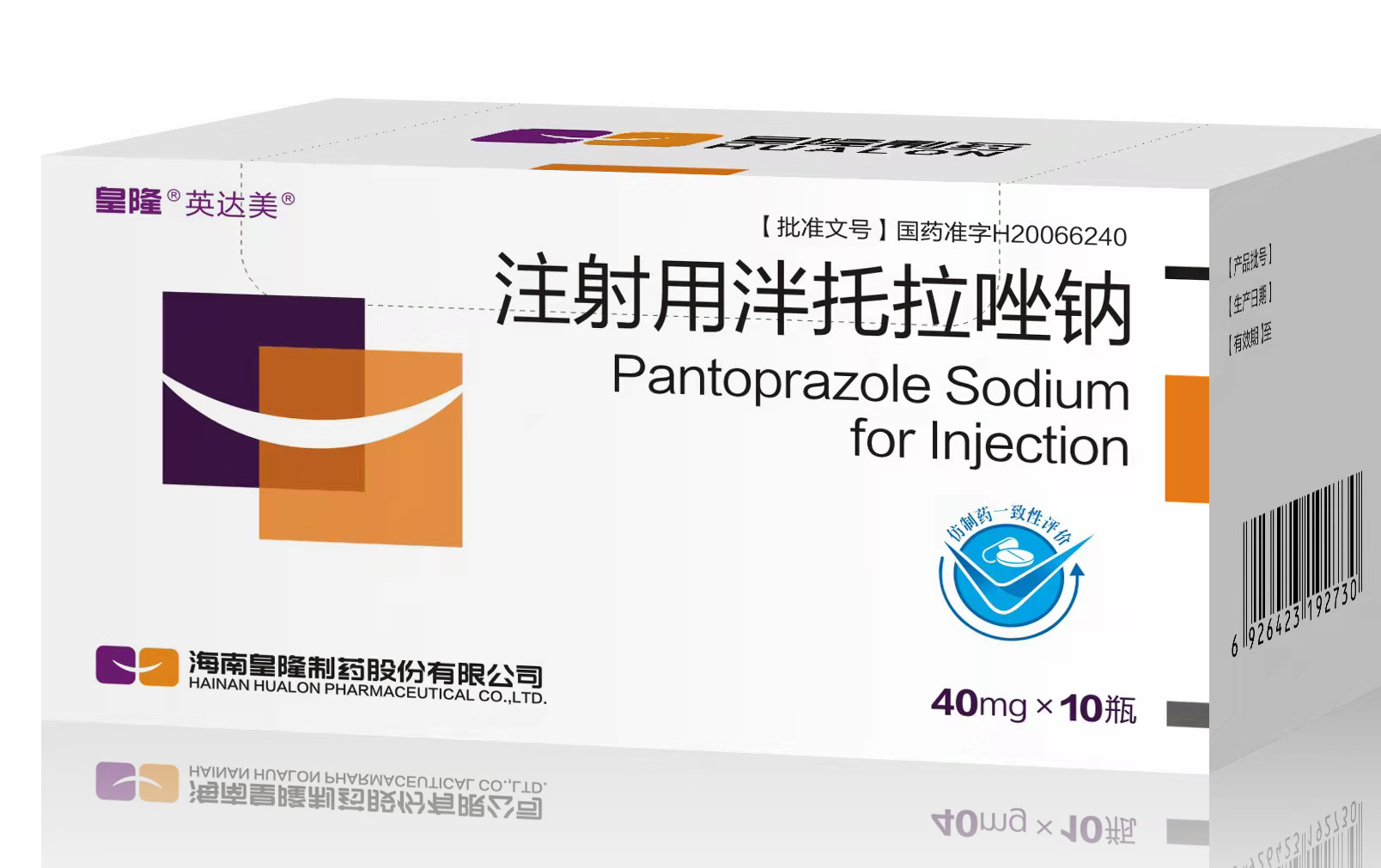 Pantoprazole sodium for injection is class B variety of national medical insurance, which is used for digestive system. It is for treatment of acute upper gastrointestinal bleeding, such as duodenal ulcer, gastric ulcer, acute gastric mucosal lesions, complexity gastric ulcer and etc.
Pantoprazole sodium for injection suppresses the final step of gastric acid production by covalent binding with two sites of H+-K+ATP enzyme system of gastric parietal cells. This effect is dose-dependent and inhibits gastric acid secretion in both basal and stimulus states. The combination of this product with H+-K+ATP enzyme can make its anti-gastric acid secretion lasting more than 24 hours. Pantoprazole sodium has a low affinity for the hepatocellular cytochrome P450 enzyme and has a phase II metabolic pathway, so it interacts less with other drugs metabolized through the cytochrome P450 enzyme system than omeprazole and lansoprazole and other proton pump inhibitors, making the treatment safer. This product has been widely used in clinical practice and has been recommended by many guidelines and experts.
According to the database of china medical information center, the sales of this product reached 2.59 billion RMB in 2020, with a large market scale, and it will continue to benefit more patients with high quality.
Pantoprazole sodium for injection passed the national drug consistency evaluation, which further enhanced the technical advantages of the drug, accumulated valuable experience for Hualon pharmaceutical follow-up product research of national drug consistency evaluation and generic drug development, and help to consolidate the company's leading advantage in the field of digestive system diseases.